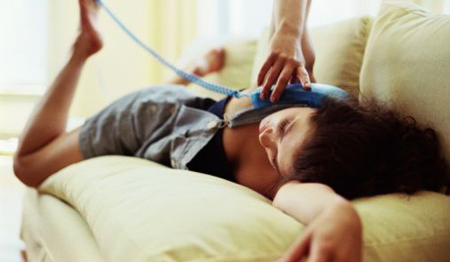 After nearly four weeks of no contact, EBM decides tonight is the night to make the call. There had been a few conversations since he'd met her a couple of months ago but an actual date never transpired. The duo had an undeniable chemistry at the first meeting but life (The Situation) just kind of got in the way.
The phone rings a few times before EBM hangs up, defeated. He leaves no voicemail. But to his surprise, my name appears in his caller ID seconds later. I was deciding whether or not I should answer EBM's call considering so much time had passed, but I decided a few weeks ago to not over think anything these next few months, so I called him back.
We fall right back into our sarcastic exchange regarding out respective M.I.A.ness before we began with formalities. First I found out about his latest developments and then it was my turn.
EBM: So, what's new with you?
Me: I'm moving to New York and I'm gonna be an aunt in a few months. I'm so excited to be an aunt!
EBM: [long pause] Wait what?! You're moving to NY?
*I really played my previous statement down. I'm not one into a big production with strangers. It was already an awkward conversation to begin with. Plus I really am excited to be an Aunt!*
Me: Yeah. I'm going to NYU in the fall for my masters so I want to get settled in by August.
*After he gets over the initial shock, he goes in on me.*
EBM: So how do the guys you're dating feel about your move?
Me: [now I'm caught off guard] Well I'm only dating one and I'm not really concerned with how he feels. We're not that serious and I didn't make this decision with him in mind.
We spend the next 10 minutes dissecting my relationship with The Situation [which is another blog for another time.] I lay it all out there. Nothing but honestly followed. The truth is, me and The Situation have come to an unspoken agreement, although people around us expect us to take the next step and become a couple, we don't see each other like that. We're comfortable spending lot's of time together but know we could never commit to each other. And now that I'll be moving cross country in a few months, we're just hanging out.
Knowing this, EBM and I still feel like we should get to know each other before I leave BUT we agreed that once I left, that would be it. Neither of us are interested in long distance anything.
The old me would have talked myself out of spending time with both The Situation and EBM. But the old me also wouldn't quit my job (in 2 months), sell my car and move to NY to pursue my dream. We can all agree that the old me stood in the way for too long. The new me is enjoying life and not taking anything not related to my career too seriously. I promise to blog more these next several weeks before I leave. Should be exciting to document my last few weeks in the sunny LA.
[youtube=http://www.youtube.com/watch?v=aqlJl1LfDP4]
How have you guys been lately? Any exciting developments you would like to share? Meet me in the comment section.